Stand Up Paddle Boarding (SUP)
The fastest growing water sport in the world. SUP is a new crossover sport offering the flexibility of kayaking with the potential for wave riding.
Easier than surfing, this beginner friendly paddle sport feels like walking on water! It is a great core workout and has become a favored celebrity sport.
Relaxing and exhilarating, easy yet challenging, SUP is the perfect way to explore Cape Cod's beautiful ocean coastline, serene kettle ponds, and marshes. The prone stading position offers a great viewing angle of everything above and below the water. looking down, you can easily see fish, seals, and shells while quietly gliding across the water! Great for all ages, it is the ideal family vacation activity. Join us for a tour, or grab a rental and have fun on your own!
A Guide to Stand Up Paddleboarding on Cape Cod
With over 500 miles of oceanfront coastline and hundreds of fresh water kettle ponds, Cape Cod is an ideal place to SUP! Here are some tips to make your paddle experience a successful one:
Watch the wind and weather! Jutting out into the Atlantic, our little sand bar can at times get very windy. Although wind direction changes as weather fronts pass through, it most often blows from the SW during the summer months. A typical summer day starts calm, sees a southwest breeze kick in during the middle of the day as the sun rises, and then it becomes calm again later in the afternoon. South side beaches facing Nantucket Sound are very exposed and may become choppy and difficult to paddle under these conditions. But, if it happens to be coming from the north, east, or west, it will affect other bodies of water differently. Be safe and know what you are in for. The early bird gets the worm... and the glassy water.
Know the tides! Harbors, marshes, and saltwater rivers have a noticeable current as the tides come in and out. Know the tides so that you can predict tidal flows, and how it may affect your paddling experience. Paddling into a current, or worse into a current and a headwind, is very difficult and strenuous. When encountering a strong current stay close to the shore line. It is easier to paddle there. If timed right, paddling WITH the current make make a fast and leaisurely paddle. This is a great resource: www.boatma.com/tides/Cape-Cod.html
Maritime right of way- when in a saltwater venue, stay out of the marked channel when boat traffic is present! Both sailboats and power boats have the right of way, and they need the deeper channel to avoid running aground. Wait for larger vessels to pass prior to paddling across the channel. It's the rule and it's also the smart thing to do... they are much bigger than you.
Safety equipment- The US Coast Guard requires paddleboarders to have a life jacket on board when paddling outside the surf zone. Although many people ignore this rule, if you paddle in saltwater patrolled by the USCG or the local harbor master you may find yourself under scrutiny. For your safety and to avoid a ticket, be smart and wear a pfd.
Freshwater ponds are your friend! As exciting as paddling in the ocean may seem, many people find paddling in ponds to be a more enjoyable experience. No current, always a shoreline to find shelter from the wind, warm water... for families with kids especially, this is our pick!
Sea life- We have an abundance of nature here on the Cape. Swans are beautiful but if you glide up on their offspring, they may come after you. Seals are awesome to see from a board, but where there are seals there may be sharks. There has been an increase in sightings of great white sharks, especially in our Atlantic facing coastline. Keep that in mind and seal watch or paddle in the open ocean at your own risk! Ponds, harbors, and bays offer much to see and are a safer environment.
What to bring- A water bottle, pfd, whistle, waterproof case for your phone, GoPro camera, floating sunglasses, sunscreen, sun shirt, are all highly recommended. Water shoes for rocky saltwater environments come in handy so you don't cut yourself stepping on a sharp shell or barnacle encrusted rock. All of these items are available in our Cape Cod Beach Chair Company-Adventure Chatham store.
Hitting the waves? Paddle surfing is incredibly fun! The Eastern facing Atlantic beaches from Orleans to Truro have numerous sand bar breaks that are ideal for learning to surf. Before heading out, be proficient at flatwater paddling, have good technical skills, and a leash. Got those? Great. Next, learn surfing etiquette. Stay clear of other surfers and choose a more remote spot down the beach. You will get more waves and it will be safer for other surfers in the water. As mentioned above, there have been great white shark sightings at many of these areas so stay aware and alert.

Is Stand Up Paddleboarding a Good Workout?


People often hear about the fitness benefits of stand up paddleboarding. When asked about whether it offers a workout, I like to compare it to riding a bicycle. A leisurely, short ride around the neighborhood can be very enjoyable but is not very strenuous. Similarly, a carefree sightseeing paddle in a calm waterway is not going to offer much of a workoutt. However, much the same way a long and fast bike ride involving challenging terrain will tire out the fittest athlete so will paddling that involves longer distances, a faster paddle cadence, and paddling through waves, into a wind, or into a current. The chart below provides and overview of the calories burned with different types of paddling: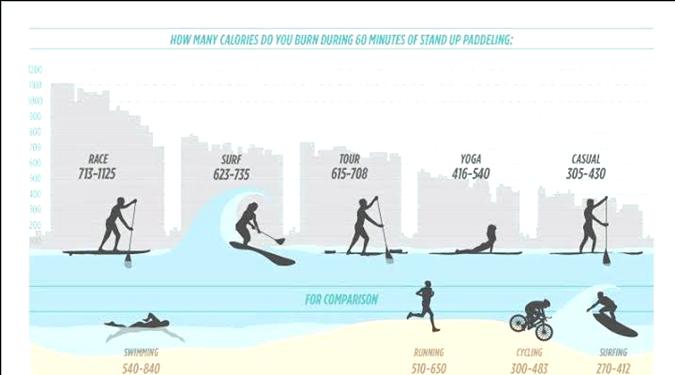 ---